TRAIL OF SCARECROWS
During the month of October, people will be visiting different communities throughout the county voting on their favorite scarecrows! Join in on the fun and your display will be listed on the Visit Fairfield County "Trail of Scarecrows" digital map!

You could win a $50 Visa gift card for the People's Choice Award in Bremen. Improve your chance to win by uploading a photo of your finished scarecrow to be included on the voting form. A link to upload can be found on the Trail of Scarecrows registration page and will be emailed to you upon completing this form.

NEW IN 2023: Introducing... categories! This year's theme is movies. Create a movie-themed scarecrow or compete in another category for a chance to win a special prize - winners are determined by public vote on the Trail of Scarecrows voting form.

Be part of the Trail of Scarecrows in Bremen and Register today!
DEADLINE TO ENTER: September 30, 2023
TRICK OR TREAT

Thursday, October 26, 2023
From 6-7:30pm
Have Fun and Be Safe!
HOMETOWN HERO BANNERS
American Legion McVeigh-Burnworth Post 20 in collaboration with Bremen Area Chamber of Commerce and the Village of Bremen are sponsoring the "Hometown Hero Banners" that will hang along the main streets of Bremen, Ohio. These banners are Individually purchased by family members and Rushcreek Township Volunteers will hang them annually. There are a limited number of spaces provided for the banners. We will accept 15 orders per year. If you are interested in purchasing one please read the following guidelines. If accepted you will receive the opportunity to verify the correctness of the submission with a proof.

Hometown Hero Order Form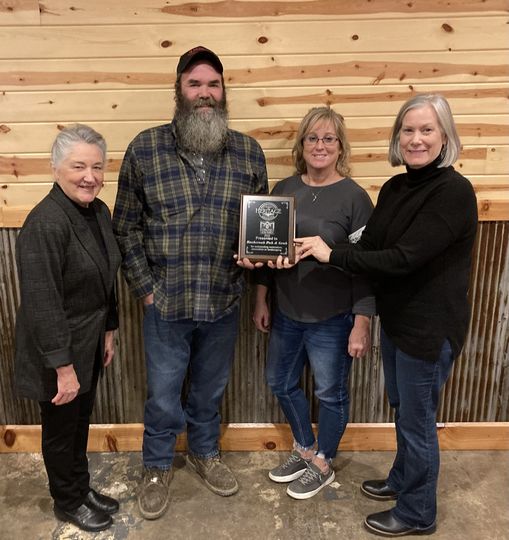 RUSHCREEK PUB & GRUB - 2022 CORONET AWARD
FCHA Executive Director Wendy Gregory presented Rushcreek Pub & Grub their 2022 Coronet Award. If you haven't been to the pub yet you should stop by and check out the beautifully renovated space.
102 Broad Street
Bremen, OH

Pictured from left to right: Cinda Thomas (Bremen Area Historical Society Museum Chair), Chad Ashbaugh (Owner of Rushcreek Pub & Grub), Tara Bobo (manager of Rushcreek Pub & Grub), Wendy Gregory (FCHA Executive Director).