MUSIC IN THE PARK
DOWNTOWN BREMEN

It's that time of year again. "Music in the Park" returns to downtown Bremen. Sunday evenings from 6:30 pm to 8:00 pm, Dowling Park will be filled with music. From Country to Polka and everything in between. Bring the kids, your dancing shoes and a lawn chair for the Sunday evenings, hour and half you will enjoy. There are great restaurants around the block (Rushcreek Pub & Grub and Crenos Pizza) or bring a picnic.

Kicking off the season will be Ben Davis Jr. an award-winning singer/songwriter from southeastern Ohio. Ben has performed all over Ohio. Most recently wowing audiences in Yellow Springs. Start off the season with Ben and his country/folk/rock songs.

The second week will not disappoint. Brandon Fox and The LeftOver are scheduled for the evening. This is a newer band. Several familiar artists formed this group to entertain us with a bluegrass sound and a special blend. This will be one of those groups that you will begin to follow as they will awe the socks off of you!

Many other past favorites such as Paul Blankenship, The Nostalgics, Jared Foster (who is always the big hit), Trinity Trio, Doug Fox and the Cedar Hill Bluegrass Boys and of course DJ Sigler and Family, who will be ending our summer music on Labor Day weekend. Slawdog, Trinity Trio and The Band Riff Street with Jerry Tharp, are always toe tapping and great to sing along with. This year we have a new Polka group called Rt 161 Polka Duo and also a Christian Rock group `Justice 316` to entertain.

Bremen's great tradition of bringing the community together for great times of music, fellowship and fun. It's the happening place on Sunday evening!!

We are hoping for great weather again this year but in case of rain around 6:30 we will have to cancel.

2023 Schedule:
May 28 – Ben Davis Jr. (Country/Folk/Rock)
June 4 – The LeftOver (Bluegrass/Special Blend)
June 11 -- Paul Blankenship (Classic Rock/Pop/Country/Folk)
June 18 – Justice 3:16 (Christian Rock)
June 25 -- Doug Fox & the Cedar Hill Bluegrass Boys (Bluegrass)
July 2 – Brandon Wagner (Patriotic/Country)
July 9 – SlawDog (Contemporary Christian)
July 16 – Micah Kesselring (Appalachia Country Blues)
July 23 – The Nostalgics (18 Piece Swing/Dance Band)
July 30 – Jason Bennett (Classic Country)
Aug 6 -- Jared Foster (Guitar/Easy Listening)
Aug 13 – Trinity Trio (Gospel/Christian)
Aug 20 – Rt. 161 Polka Duo (Polka)
Aug 27 – The Band Riff Street with Jerry Tharp (Variety)
Sept 3 -- DJ Sigler & Family (Country/Gospel)

Thank you for supporting Bremen Music in the Park.
BREMEN COMMUNITY YARD SALE
Saturday, June 17, 2023 from 9am - ??
VACATION BIBLE SCHOOL

Crafts, Music, Science, Recreation
Hosted by Bremen United Methodist Church
205 Walnut St. Bremen, OH

Meal at 5:45pm - Program begins at 6:15pm
For kids preschool-completed 6th grade
Co-sponsors Bremen Bethel Presbyterian Church, Calvary United Methodist Church and Jerusalem Church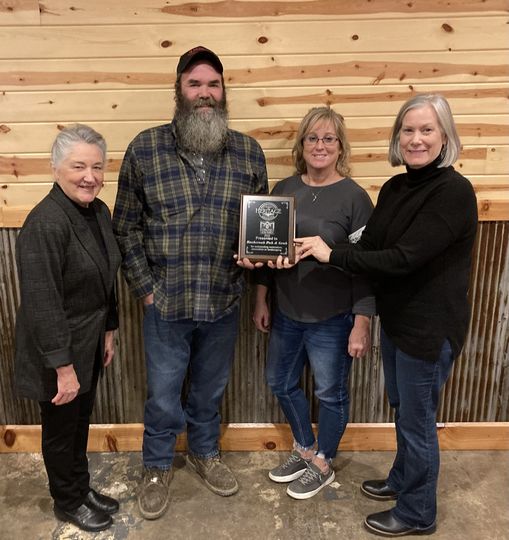 RUSHCREEK PUB & GRUB - 2022 CORONET AWARD
FCHA Executive Director Wendy Gregory presented Rushcreek Pub & Grub their 2022 Coronet Award. If you haven't been to the pub yet you should stop by and check out the beautifully renovated space.
102 Broad Street
Bremen, OH

Pictured from left to right: Cinda Thomas (Bremen Area Historical Society Museum Chair), Chad Ashbaugh (Owner of Rushcreek Pub & Grub), Tara Bobo (manager of Rushcreek Pub & Grub), Wendy Gregory (FCHA Executive Director).